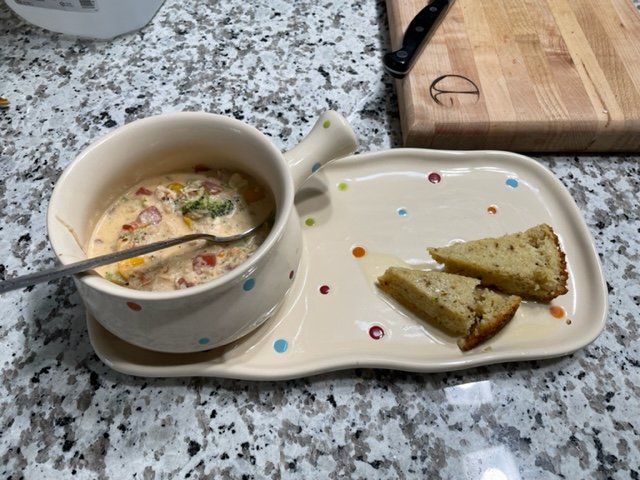 This Spicy 1-1-1-1 Soup is a variation of the Creamy Keto Soup, published a while back. Grab your crock pot or Dutch oven, and throw all of these ingreadients together for a hearty and delicious meal that is easy to make on those chilly fall and winter evenings.
1 stick of butter
1 chopped onion
3 Tbsp Knorr's chicken flavored bouillon
1 bag of frozen broccoli
1 bag of frozen cauliflower
1 deboned chicken
Water to just barely cover veggies/meat
1 quart heavy cream
1 teaspoon salt
1 teaspoon black pepper
1 teaspoon garlic powder
1 10 ounce can of Rotel tomatoes
If using a whole chicken, debone and break/cut into bite-size pieces. If you are using canned chicken, 3 or 4 of the10 oz cans should be a similar amount. Set chicken aside, while combining vegetables and wet ingredients. In a large Dutch oven, or even in your crock/insta-pot, melt a stick of real butter. (Never use margarine or fake butter.)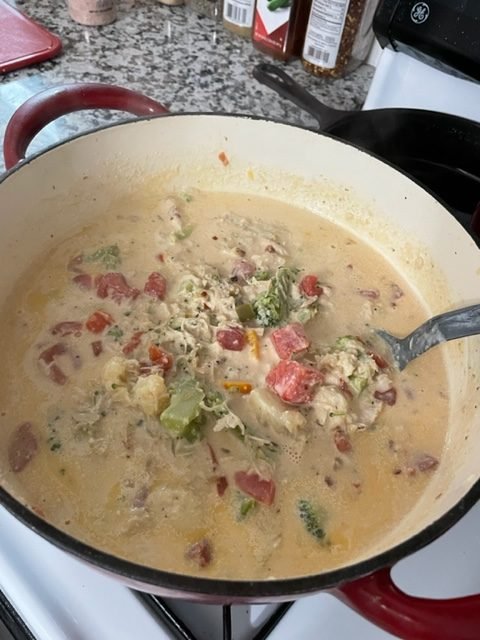 Add the chopped onion and saute until just clear. Add the frozen (or fresh vegetables of your choice) broccoli and cauliflower. Stir into the butter and onions, and add the chicken. Top with water just to top of mixture; it should be about 1 – 1.5 quarts of water. Add 1 quart of heavy cream and seasonings. Mix well, and let cook on medium-low heat for about 30-45 minutes, or until frozen veggies are hot and beginning to disintegrate. Add tomatoes and let heat for about 15-20 minutes. You can let this cook in the crock or insta-pot if you prefer. My favorite way to have soup is with cornbread.
You can top with sour cream, cream cheese, grated cheeses, or a variety of other seasonings and toppings to your liking. Bacon would probably be amazing on top!
Macros for 1.5 cup serving:
Protein 17 grams
Carbohydrate 6 grams
Fat 32 grams